Pho24 Ly Tu Trong Re-opened, Upgraded to New Generation
71 Lý Tự Trọng
Our Pho24 shop at 71 Ly Tu Trong St. has re-opened with a completely new look. The new design is youthful yet cozy, modern but familiar, and distinctively Vietnamese. Our new way of serving also allows us to serve our guest faster so you can have more time to enjoy steaming hot and delicious Pho. Come and experience!
---
History of Pho24
The story of Pho24 brand, our value, and vision
Founded in 2003, Pho24 was known as the first professional Pho chain in Vietnam and one of the first Vietnamese brands to successfully enter foreign markets.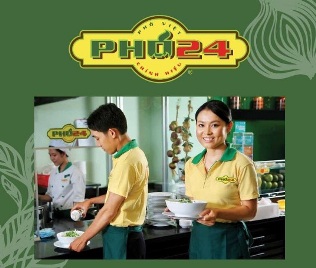 In 2011, Pho24 became a part of Viet Thai International (VTI), the company that owns and manages well-known brands such as Highlands Coffee, Hard Rock Café, 1911 Restaurant, Swarovski, Aldo, … Driven by a strong passion and a clear strategic vision, VTI was determined to make the Vietnamese traditional dish become popular world-wide under Pho24 brand.
2015 marked an important milestone as it was the year when Pho24 started its evolution to the 2nd generation (2G). Specifically, the 2G store design is modern and welcoming, mixed with familiar elements of Vietnamese day-to-day living. The new serving model is very fast, convenient, and professional. A hot and savory bowl of pho can be served within 3 minutes. New 2G Pho24 shops started appearing all over Ho Chi Minh City and immediately became big hits among Pho lovers.
With the 2G model as our backbone, Pho24 brand is growing strong and fast in both local and international markets. We are on our path to become the first and number one Pho brand in the world. As the business is growing and our team is expanding, more career opportunities become available.
We offer a diverse, dynamic, innovative, and professional work environment with a strong focus on developing people. We believe our people are our most valuable asset. That's why we never stop investing in our team members to help them reach their full potentials and succeed.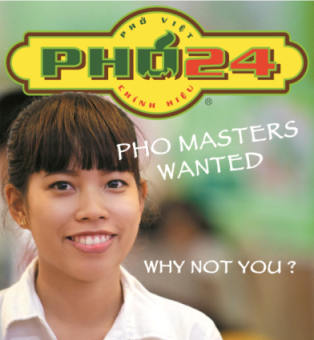 The ideal candidate to join us should have a passion for building a world-class Vietnamese brand and a strong entrepreneurial mindset. Experience in the Food & Beverages industry is a plus.
We welcome you to explore our recruitment website and apply for the open positions at our Talent Solution: http://vticareers.talentnetwork.vn/job-search/department-pho-24h.827/en
Let's join our VTI Talent Network and be updated our newest career opportunities.

Thank you and hope to be working with you soon.
Grand Opening
Opening day 04/06/2016
Have you heard about our most recent store in District 10, HCMC yet? It is our new member of Pho24 Family which is opening on 4/6/2016. Now you have another space for friends and family gathering.

Lets come & see it in real at Pho24 SVH store, 736 SVH street, District 10 and enjoy our treats!